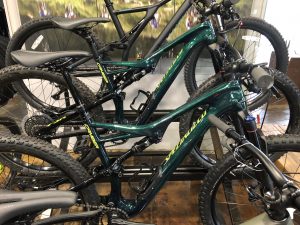 The 2018 Camber Comp Carbon Demo bikes are now available for purchase!
These bikes have been replaced with the new Stumpjumper short travel (now available for demo at GCS!) but are still amazing mountain bikes. The new Stumpjumper features a more current geometry with a longer front end and slacker headtube angle that's awesome and the kids love it, but for some of us old school riders out there who prefer a slightly quicker handling bike the Camber is amazing. The 130mm of travel front and rear is a sweet spot for the trails in our area and gives the bike a really well balanced ride. The bike likes to go uphill as much as likes it goes downhill which makes a bike so versatile that can handle a big day in Pisgah or even the occasional endurance race.
Still not convinced? Until they're sold the Camber's are available for demo for $60/day, a fee which can be applied to the purchase of the bike if you decide you love it! These bikes are in immaculate shape, were originally $3500 and are now $2450.
Check out the details HERE