We offer in-house servicing of all bicycles, new and old, with our certified expert mechanics.
Basic Tuneup
Includes:

A thorough check of all moving parts with bearing, shift, & brake adjustment

Tightening and adjustment of bolts

Wheels are trued and bike is wiped down

Chain lubed

Tires are inflated to proper pressure

Test ride to ensure safe and proper operation

*This service is included with a bike purchase for LIFE for the original owner
Full Tuneup
Basic Tuneup plus:

Bike Wash

Wheel True, round and dish

Bottom Bracket Overhaul

Derailleur Hanger Adjustment

Test ride

Includes labor for cable/housing and labor for brake pad installation.

*Parts not included
Overhaul
Full Tuneup plus:

Breakdown to bare frame

Overhaul of headset and hubs

Bleed brakes and true rotors

Includes new cables and housing

Test ride

*Unless noted parts not included.
New Bike Feel
Overhaul plus:

New tires, rim tape, tubes, chain, bar tape, brake pads
Brakes
Brake adjustment $15
Brake Pad Replacement $20
-Includes brake adjustment
Brake Cable replacement $20
-Includes Brake Adjustment
Derailleurs
Derailleur Adjustment $15
Shift Cable replacement $20
Derailleur Hanger Alignment $20
-Includes Derailleur adjustment
Headset
Headset Adjustment $10
Headset Overhaul $20
Cut Steerer $20
-Includes Headset adjustment
Fork Install $30
Drivetrain
Chain Replacement $10
Bottom Bracket Overhaul $20
Chainring Replacement $15
Cassette Replacement $10
Drivetrain Cleaning $35
Wheels
Tube/Tire Replacement $5
Wheel True $15
Wheel Re-tension $25
-Tire removal, true, round and dishing of wheel
Spoke Replacement $25
-Includes wheel true
Wheel Build $50
Tubular Gluing $30
Hub Adjustment $10
Hub Overhaul $20
Misc
Bike Wash $20
Box Bike for Shipping $50
Build Boxed Bike $100
-Includes Basic Tune and recycling packaging
Accessories
Bar Tape Install $15
Computer Install – Wired $15
Computer Install – Wireless $10
Fender Install $20
Rack Install $15
Transport
Bike Transport fee $25
– Fee per trip
That's right…
we will pick up or deliver!
Keep your suspension working great and going the distance. A Pink bike poll shows that half of the mountain bikers out there don't do the service necessary to keep their suspension functioning properly! Lets take care of your shocks so they can take care of you.
50 Hour Fork Service $75
100 Hour Fork Service $150
-includes static suspension tune
50 Hour Rear Shock Service $60
100 Hour Rear Shock Service $100
-includes static suspension tune
Safety Set Up $20
-Make sure your sag and rebound are safe for riding
Static Suspension Tune $60
-In store set up of your suspension customized to you
Dynamic Suspension Tuning $300
-On trail suspension tuning to optimize your bikes suspension 2.5hr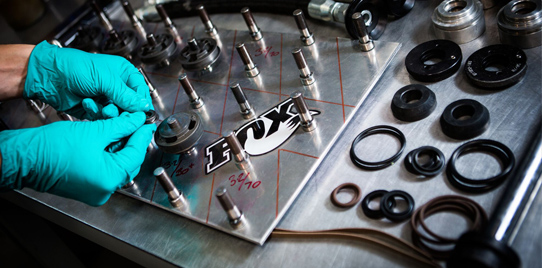 No time to bring your bike to the shop? No problem!
We'll pick it up, fix it, and deliver it!
Bike Transport fee $25 - Fee per trip
1

GIVE YOUR BIKE A BATH!

One of the most critical activities you can do to maintain your bike and all its components is wash it regularly. Keeping things clean is one of the easiest ways to keep your bike running smoothly and make your components last longer.
Be sure to:

Degrease drivetrain using bicycle specific degreaser or dawn dish soap
Clean brake pads and brake track with soap and water
Use a soft bristle brush or soft towel when cleaning frame
Re-lubricate dry chain
DON'T push all the grease out of threads and bearings with high pressure water
2

KNOW WHAT WEAR LOOKS LIKE

For your own safety and the life of the bike, it's important to know what wear looks like for different components of the bike.
Tires:

Exposed threads
Bulges or lumps
Holes or gashes
Most road tires have two tiny dimples that serve as wear indicators. When they're gone, so is your tire

Brake Pads:

For rim brakes: if the teeth or grooves are gone, it's time to replace
For disc brakes: the pads usually start out about 3-4mm thick. When they're about 1mm thick, replace them soon!
For all brakes: if you feel like your brakes are unresponsive, the pads may be worn, or they may just need to be adjusted. Bring your bike in for us to take a look at it if you're unsure!
3

CHECK YOUR BEARINGS

In order to keep our bikes running at its' best, we must be sure to maintain smooth-turning, low friction bearings that are properly adjusted.
Check for lateral motion in the wheel, headset, and bottom bracket to determine if there's play in the bearings indicating wear or adjustment issues.
Test to see if your front wheel bearings are smooth by spinning the wheel and holding onto the top tube close to the headset to amplify vibrations that indicate bearing wear (the same test applies for the rear wheel but the cassette makes it a bit harder to feel the bearing vibration)
Your headset bearings can be tested in a similar manner: check for play in the bearings by holding the handlebars firmly and trying to shift them left and right. Make sure there is no lateral play.
Check your bottom bracket bearings by testing for lateral play in the pedals. This is another important area to check for smoothness, as we want to put as little effort into the pedals as possible.
If you have any other questions about bike maintenance or other specific issues, feel free to stop by the shop or give us a call!
We'd love to help you out!